Water Connects
Water Knows no Boundaries
More than 2,000 water bodies extend across national borders. The Transboundary Waters Assessment Programme (TWAP), a joint endeavor of UNEP and UNESCO, provides facts and figures.

River basins:
The 286 transboundary river basins around the world are home to over 40% of the world population.

The catchment areas of the rivers Congo, Niger, Nile, Rhine and Zambezi are shared by 9, 10 or 11 nations. The record is held by the Danube: 19 nations share its basin
Lake basins:
There are over 1,600 transboundary lakes worldwide.

Lakes, reservoirs and other pooled water systems together contain over 90% of the readily-available surface water.
Groundwater aquifers:
So far, 199 transboundary groundwater aquifers, all larger than 5,000 km², have been recorded.

The boundaries of many other groundwater aquifers are often unknown and they are thus not recognized as shared water resources.

The number of groundwater aquifers with high water stress is likely to increase by more than 50% by 2050.
In the case of lakes and aquifers, much spatial and other data is lacking, one reason why they are very often not adequately managed.
Water Cooperation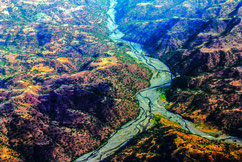 Water resources are subject to national jurisdiction. For transboundary water resources, international agreements are needed. There are several thousand in place, which govern the use, development and protection of transboundary water resources. Yet, the existing agreements mainly cover river basins, while lakes and especially groundwater aquifers are still largely overlooked. 
The earliest record of a water treaty dates back to 2500 BC, ending a dispute along the Tigris River. Ever since, water agreements have proven to be successful in overcoming conflicts; in many instances, they remained in force even during armed conflicts.

Nonetheless, for the majority of the transboundary water resources there are no agreements in place. Additionally, many of the existing agreements lack substance as they do not address ecosystem needs, water allocation and monitoring, or lack enforcement schemes. Effective transboundary water management needs to meet the requirements of our complex reality.
Sustainable development requires equal consideration of ecological, economic, political and social aspects – on both sides of the border.
International Legal Frameworks
Cooperation on freshwater is one of the priorities of the United Nations. Their international legal agreements, policies and programmes provide a global framework for cooperation and promote the principles of sustainable use and management beyond state borders.

The key legal documents are:
1992 – Convention on the Protection and Use of Transboundary Watercourses and International Lakes

1997 - Convention on the Law of the Non-Navigational Uses of International Watercourses
So far, the ratification of both conventions is rather limited. But their significance is high, as the case of Germany shows:
Germany is sharing several water bodies with its neighbouring states and has ratified both conventions – accordingly, Germany has fully incorporated the principles of the UN Water Conventions into the cooperation with its neighbours. The importance of transboundary water cooperation to the German government is also reflected in its development cooperation: based on the UN Conventions, Germany offers consultancy, technical and financial assistance as well as contributions to the international water policy dialogue. For example, in 2001, Germany hosted an International Conference on Freshwater in Bonn ahead of the Johannesburg World Summit on Sustainable Development.
Germany actively supports transboundary water cooperation through many activities worldwide.