Water and Sustainability
Limits of the Blue Planet
Water covers about 70% of the earth's surface. And yet water is very limited: over 96% is saline water. The rest are the world's freshwater resources, of which surface fresh water, the kind of water humans make use of most commonly, accounts only for 1%. The availability of water across the world varies greatly, making it a scarce resource in many regions. Stresses such as population growth, overuse and pollution exacerbate this scarcity further.
This carries potential for crises and conflicts. Even if history shows us that peaceful agreements and cooperation greatly outnumber the wars over water thus far – international efforts towards effective water governance and sustainable development are urgently needed.
Water and Development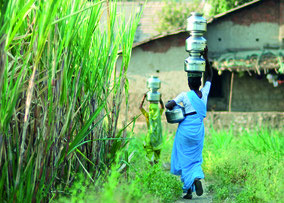 Water is at the heart of sustainable development. That is why it has been among the top priorities of German development cooperation for over 30 years. It can serve as key driver for development or pose severe challenges.

Ever since its beginnings human civilization has been closely intertwined with water management as the formation of complex human societies has been dependent on the existence and availability of water.
Apart from the basic need for survival, water plays a key role in many human activities:
agriculture and food

energy

innovation and technology

industry and urbanization

sanitation and health

 transport, trade and communication

Economic productivity as well as social development are closely linked to the availability of water. In fact, water shortages have often triggered technological innovation and new approaches to water management. However, many of these solutions only bring temporary relief, and do not sufficiently address the core problem of water being a finite resource.
Sustainable Water?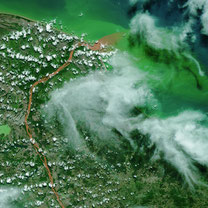 Humankind requires a holistic approach to meet demands regarding water and other resources. In this context "holistic" equals "sustainable". The concept of sustainable development was popularized by the United Nations Brundtland Report "Our common future" (1987). With the Millennium Development Goals, the world has since achieved considerable progress, yet much remains to be done.

In September 2015, the UN adopted the new and most ambitious global 2030 Agenda for Sustainable Development comprising 17 individual goals.
© NASA Earth Observatory image by Joshua Stevens
Each country worldwide is tasked to implement these 17 Sustainable Development Goals (SDGs) until 2030, tailored to its specific circumstances.
The overarching aim of the SDGs is to promote the three dimensions of sustainability; economic, ecological and social. Water being one of the most crucial and scarce resources is explicitly addressed in SDG 6: "Ensure availability and sustainable management of water and sanitation for all".
In addition, freshwater is a recurrent aspect in several other SDGs, e.g. SDG 2 on ending hunger or SDG 7 on affordable and clean energy. Hence, the 2030 Agenda provides the best-ever framework for achieving sustainable and integrated water management.

While the SDGs require action of each individual country for implementation at national level, it is specifically water that makes it obvious that the SDGs also crucially require transboundary and international cooperation.